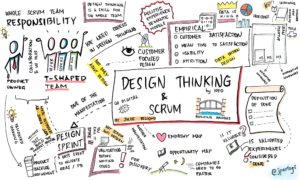 Design Thinking is an imperative practice for innovation and organizational learning, therefore an essential mindset for Product Owners – the title Scrum uses for Product Managers. It's a complementary practice for Scrum practitioners, not a competing one! The use of structured, customer-centric exercises – and user data – helps us identify and explore key interactions and gain empathy for the customer. And that can lead to new insights and exciting ideas for new business opportunities. Design Thinking exercises can help anyone learn more about their customer and improve their product, service or process.
Stay connected as I share some blogs, tips and best practices to bring into your team.
Change your thinking, change your product, change your world.